It's not easy being a leader in businesses in 2022. The workplace is becoming more fast-paced and technology-driven, so leaders must upgrade and cultivate leadership skills that will guarantee a positive impact. But what are those leadership traits that make the difference? And how does a good leader impact the workplace? Read on and find out.
#1 Good Leaders Have Exceptional Communication Skills
Regardless of the team size, a great leader will know how to communicate their ideas, agendas, and plans clearly. In addition, they'll be aware of the difference between e-mail and face-to-face feedback and what both of those mean to their employees.
Another example of good leadership is creating an open line of communication. That means being straightforward and making transparency one of the key values in the team, which your employees will then follow. By practicing clear and genuine communication, leaders can build trust and boost the morale of their teams.
#2 Great Leaders Truly Love What They Do
No one wants to be guided by a leader that looks like they hate themselves in the morning and then hate the world in the afternoon. Passion gives birth to more passion, so leaders should not be afraid to show just how much they love and enjoy their work. Even if they do not enjoy some parts of the work, they should at least be able to show they are glad to tackle the workload alongside their team.
The best leaders have that kind of enthusiasm that's easily transferrable to each team member. Moreover, such enthusiasm has a motivational quality that enables the team to achieve better results.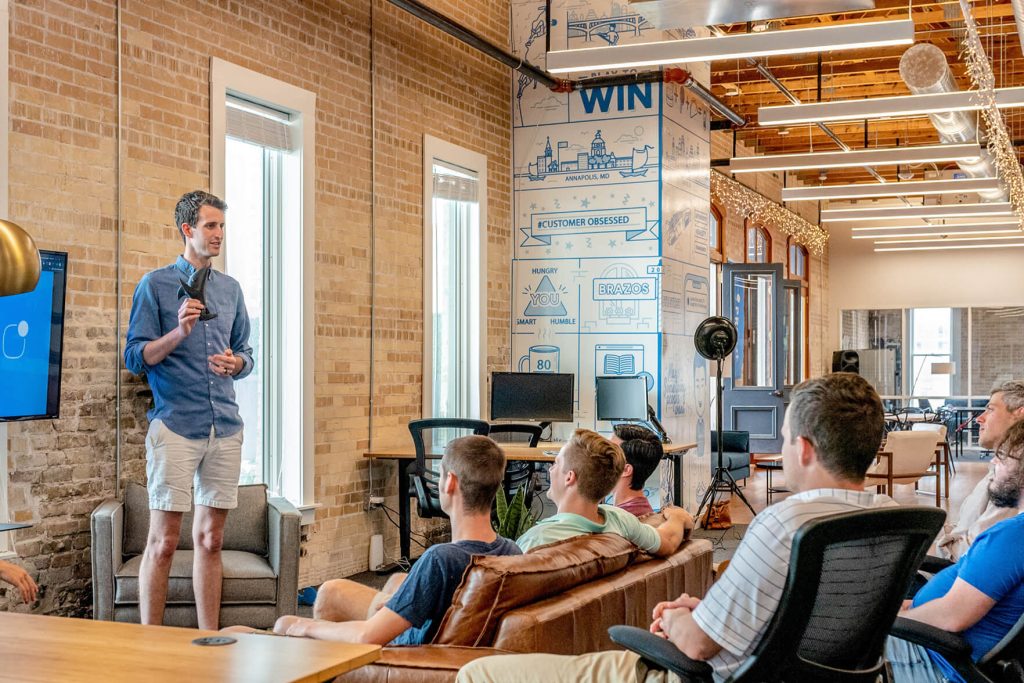 #4 They Always Keep an Open Mind
One of the characteristics of good leadership is keeping an open mind to new ideas, concepts and technologies. No matter how experienced a leader is, chances are their Gen-Z employee can teach them a thing or two when it comes to new technologies.
Keeping an open ear while keeping their ego at a minimum is a fun leadership exercise with no drawbacks. It will make the team members feel valued, boost their confidence and bask in the feeling of having an approachable leader.
#5 The Best Leadership Trait: Being Supportive
One of the best leadership strategies to implement in any workplace is empowering others and cheering them on. However, great leaders go beyond giving encouraging words to their employees. They also invest financially in their employees' growth, showing that they genuinely care about their team progressing further.
#6 Leadership, not Dictatorship
Having trouble engaging your employees to do more? Well, maybe you've mistaken leadership for dictatorship. The employees know they are paid to do as they're told, but such a toxic narrative and atmosphere will make them do the bare minimum. Leaders who want to engage their employees should first learn the art of engaging others.
Teaching instead of ordering would be the first step to mastering this leadership technique. By teaching others how something is done and allowing them to see the choices in front of them, leaders are making employees more interested and committed to the work environment.
The secret to being an effective leader is choosing and adopting leadership traits that would suit their team the best. It is the reason why there are nine different leadership styles to choose from, depending on the industry, organization, and the team itself. However, without a team, there is no leader- a fact that every leader should remember.
Mercury Hampton assists business leaders solve people and performance chalenges by utilizing actionable data and creating organization-specific solutions. Contact us and learn more about how our detailed business assessment diagnostics and high-performance coaching programmes can transform and boost your company's performance.